School Info
Grant L Guy
Elementary Principal
grant.guy@k12northstar.org
907-479-4211 x102
907-479-5077 [fax]
Address
5000 Palo Verde Avenue
Fairbanks, AK 99709
School Hours
Students: 9:00 am - 3:30 pm
Office: 8:30 am - 4:30 pm
Announcements & Upcoming Events
Woodriver Elementary students put their pedals to the pavement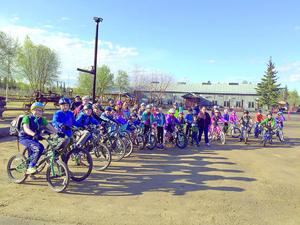 FAIRBANKS — As the summer sun was first beginning to take over Fairbanks and the school year was just a week away from drawing to a close, students and staff at Woodriver Elementary School took to the streets to ride their bikes for a change.
For the school week, May 11 through May 15, dozens of parents and school staff hopped aboard their bikes to ride to school instead of taking the bus or driving.
Read full article
Update: Phone Access
Wednesday, May 6, 2015
In response to anonymous threatening phone calls that have disrupted operations at various schools, district schools will no longer accept calls from anonymous numbers.
This action was taken at the recommendation of law enforcement agencies, which are investigating the recent calls.

Callers with anonymous numbers can reach schools by taking steps to display their numbers prior to calling a school or by calling the administrative center at (907) 452-2000, which will serve anonymous numbers.

Spring Concerts
Band, Orchestra & Choir
Wednesday, April 22nd at 2:00 PM and 6:00 PM
KG - 03 Primary Concert
Thursday, April 23 at 10:00 AM and 1:15 PM